Take a look at Our
FEATURED TRIPS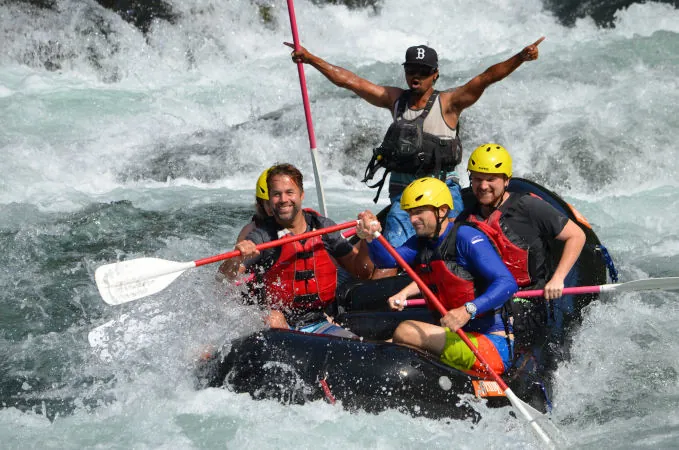 Clackamas River Half Day Rafting
A Clackamas River Rafting trip is one of the premier white water river trips in Oregon and is within easy reach of the Portland metro area.
Difficulty: Intermediate
Age: 6+
Duration: 3 hours
Prior Experience Required?: No
Clackamas River Full Day Rafting
Travel the full lengh of the Clackamas River with all the major rapids and a wonderful, bar-b-que along the river.
Difficulty: Intermediate
Age: 10+
Duration: 5.5-6 hours
Prior Experience Required?: No
Celebrating 25 years of whitewater rafting in Oregon
Based just 30 miles from Portland, Oregon, Blue Sky Rafting has been offering high-quality rafting trips since 1997. We truly believe that time spent on the river can change your life.
Specializing in Oregon white water rafting trips close to the Portland metro area, our goal is to provide a first-class rafting experience and still allow time to enjoy all the other activities available in and around Portland. Come join us on the river today!
Group Trip Info
Rafting with Blue Sky is a great way to build lasting connections while having fun! Groups of all ages and abilities can have a great time rafting. We have a variety of trips that function well for groups from 10-50 people. We can also customize any of our trips so you get the experience you want, including adding a meal to a half day trip or adjusting the timing of the trip.
Family Rafting Trip Info
Some of our most memorable trips are with families. Whether it's young kids and parents or adult kids with parents or extended families together for a reunion, the joyful memories on the river make it all worth it for us.
Being on the river together is a great way to re-connect and step away from our day-to-day lives in a beautiful, healthy environment. For many, river trips make a lasting impression.
More Questions?
We are happy to answer questions about our rafting trips or answer questions about Oregon. Feel free to give us a call at:  503.630.3163 or shoot us an email.
You can also hop on over to our Frequently Asked Questions page and see if that help.